I took me 44 furious hours to complete it, without getting bored. I borrowed it, so I gave it back after that, but I still have a few stuff to explore (like some sidequests to complete, etc).

I must say its been a while that I've enjoyed an RPG so much. I had tried FF: Chrystal Chronicles just before, and it was a real letdown. Plus I found Tales of Symphonia very mature in its premise. While it has "kiddie" (kawaii) cel-shaded graphics, the main plot deals with racism (without spoiling too much, it's between half-elves and humans) and concentration camps.

Although by the end of the game you kind of get jaded on the "shocking" revelations (like... ok... this thing actually is... yeah.. I saw that coming a mile away), you still want to keep going to see the next boss. The combat system is brilliant and very fun (you can smash buttons *strategically*) and it gets interesting when your side-kicks learn the most powerful spells.

So... yeah, three thumbs up (guess where the third one is).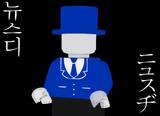 [download a life]