> Just kinda curious as they're amusing. There like a few japs or something
> pumping this stuff out on some website?

Indeed, although this is just an assumption on my part, I'm pretty sure most of those come from the 2ch ("2-channel" or "2-chan") forum. It's one of the oldest and most famous Japanese forums, with a really shitty interface but with lots of crazy stuff. The Japanese CA in a way :-)

2ch opening page, with a cat offering you a condom?

There's also an English clone of the boards, called "4ch", it used to have interesting images but they seem to have been cleaned up.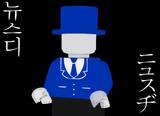 [download a life]