Have a DS (1st edition) and a GBA SP before that. I got one of the old flash carts for the GBA that also works on the DS... however I've mostly ran NES emus on it. I've got quite a few games for both systems, but again, at the end of the day I've ended up mostly drawn to emus.

So a few weeks ago, I caved and went for a handheld that is designed for emus. There's no firmware to hack, no flash cart to buy (just a big SD card), and the LCD quality is very good (no ghosting). I get about 6h of battery life (with a spare in the bag for extra mileage), and many of the emus are extremely solid. The Genesis emu (Picodrive) is absolutely awesome and almost flawless - plays at more than 60 FPS with 44 Khz sound, and even supports Sega CD.

NeoGeo and CPS2 I get 60 FPS if I reduce the sound quality. SNES, PCE, and GBA are all playable, although with frameskip. Mame runs as well, although I find it a bit slow. Not too much of a problem to play in the train, though. Last but not least, the PC98 emu (for Japanese ero games) works great, as does the GB Color emu (though doesn't support save ram at the moment, annoying). Ah and there's a PSX emu but haven't tried it. No way it goes full speed, though.

Of course the big drawback is that there are almost no commercial games on it. The offering isn't very appealing either, one of the most famous games (Payback) is just a clone of GTA1 (good one apparently, but I've never liked the first 2 GTAs). There's one new game (Wind and Water) that looks interesting, and is quite cheap. Might get it sooner or later.

Other than that, there's a bunch of ports from SDL and some open source games.. like Quake1, Supertux, Transport Tycoon, plus some more obscure titles that are good as well. The homebrew scene is quite healthy at the moment - playing BattleJewels at the moment (some Bejeweled clone with RPG elements). There's an SDK and a bunch of tools to program in C/C++ with SDL, so anybody can start makign their own games.

The thing is a bit more expensive than a DS Lite, but I do recommend checking one out if emu and homebrew is your primary objective for a handheld. There's a new version coming out in October that has a touch screen and a new D-Pad (the rest being the same), so the older model (F100 MK2) should go down in price soon. If you go for the older one, ensure you get a MK2 to increase the chance it will overclock well, though. (I can get mine up to 255 mhz without issues).

So my advice for Tib is... think well how much you want to have the DS games. A 4GByte SD card will be much much cheaper than any flash cart, which mostly go up to 1Gbit (so 128 Mbytes), AFAIK.
Not sure for how much you can get a GP2X in Brasil, though. May not be a cheaper option after all.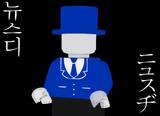 [download a life]