I guess I got mine at the right time... I had started wondering about a NDS flash cart. I thought about the GBA one gathering dust that I ended up only using for emus. Prices online for a cart where quite high still. I thought about a PSP but then looked at prices of games, and I judged the cost was too high to switch.

It's a shame they don't get to stores because I think they would sell very well. You can't judge build quality on pictures; if you can hold one it's a much easier decision. But it's a small start-up lost somewhere in Korea that probably does most of their business by mail. I was in the country and I expected to see the GP2X in the stores, but it's actually obscure even there. They did strike (modest) gold because they kept the loyal following of various devs and adhere to the OSS rules (give back the code).

They do advertise and go to trade shows (funnily enough in one pic you see the guy went with his family, and the daughter is playing with.... a DS mini), but it's very targeted. I only saw "consumer" advertisements in specialized print media (like the UK's Retrogamers magazine [bit fun btw, but nothing anybody here wouldn't know]).

But somehow it's cool to game on a console made by some guys with virtually no marketing department, with no pretenses to go after the big guys (and failing miserably like every other handheld before the PSP), and still coming with a good quality product.

Note though that they didn't design the low-level hardware. It's a system-on-a-chip (based around a couple of ARM CPUs) made by another Korean company called MagicEyes. A space to watch because they have higher powered chips, which probably will be the base for a newer handheld.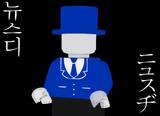 [download a life]