> Actually from what I've read (never tried it) if you exit out of a VC game
> through the HOME button and into the menu it does a savestate of where you're at
> so you can pick it up later, but if you just bail (power off) it obviously due
> to that (being cut off) won't.

Yes it works like that. It's good enough if you need to stop playing immediately to do something else. Not all the systems support it though; the Neo Geo and (I think) the N64 do not have it. PC16 and NES definitely has it (not tried games for other systems yet).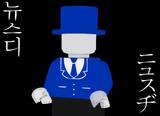 [download a life]