Halcyon had pointed out in a post that Flash games were janky...
This started off as a reply, continued as a rant, and became this pseudo-blog post. So here it is in its own topic.

Flash has clearly lowered the barriers of entry for game development.
Making a game is still real work though, and if you can't churn a game out in a few weeks it becomes increasingly harder to get it done.

So you get one layer of obvious crap made from script kiddies that managed to string together some code from tutorial websites, and release whatever they've got.
The undiscerning masses don't care so some of these low to medium quality may get popular and pollute the net.

Developers with a larger attention span, but that are not professionals, are tempted to get some games done for competitions or sponsorships.
These are (directly or not) paid by advertisers, so they don't really reward length of the game, they only care to attract many visitors to see a few ads.

Beyond competitions you have the "coolness" factor but that is more driven by overall feeling of the game rather than length.
So again there's more incentive to make many releases of small cool games instead of a major opus.

Professional developers (that have a job) start feeling opportunity cost from not doing more lucrative stuff.
Unless they're explicitly paid to create a big game in Flash, they'll just do what they have to (if they're paid for it), or whatever they have time to do (if they do it for hobby).

As a result of all this, there is a bias everywhere to release a bunch of small games often insead of a few good ones.
So you end up many games with a really good concept, but are extremely short.

Which is a real shame, because its entiely possible nowadays to make a game with the same technical levels as a DOS or 2D Windows game.
There are a few wrinkles (fullscreen is a bit hacky, but possible), but current Flash blows out of the water most stuff you could do with Director.

I guess all the "serious" game developers gravitate to C++/C# because of the aura it has of being faster
(which it is, but that's not always needed) and more standard (which is debatable - Flash is all over the web now thanks to Youtube & co).

Flash still remains a nice development platform. If I made anybody curious, check out the (open source) Flex SDK (official from Adobe, allows to create full SWF from code), or the Haxe project (open source meta language targeting SWF and more).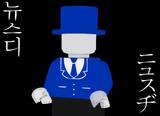 [download a life]