Whoever wins will face a horrible mess. The US is freakin' broke (or close to being) with all the crap they're buying or giving away. I expect to see higher taxes, cut backs on many non-financial and less popular government spending (grants to universities, NASA, parts of the army, etc). The only good news is that with a reduction of standard of living (and labor costs), we should see outsourced jobs going back to the US. But it will be painful for everybody.

McCain is freaking scary in the sense that he clearly won't hesitate one second to push the big red button. As far as I can tell his policies are a continuation of Bush's (+ his administration) which I don't think did too much good to either the US or the rest of the world. If he wins, I expect the US to engage in another war to distract people from real issues, nevermind the sorry state of the situations in Iraq and Afghanistan. Back in the day, the motto for the war was "support your troops". Well, I do, I want them safe(r) defending home and not bullying other countries.

Obama is interesting. Hopefully if he wins he can take steps to reduce the rampant racism in the US (on all sides). The pain of undoing Bush's damage, however, can make him very unpopular, and could bring a republican win next time. So he may choose to keep the status quo after all. He won't be able to do as much as he promises but if he does a good job in foreign relations, it will be a big improvement. I don't agree with many of his ideas, but it's the lesser of two evils in my book.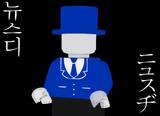 [download a life]