...but I've only ever had one gamepad with a throttle. I think it was the first Gamepad I ever had, but it wasn't very good.

Here's what I've used (of what I can remember):

Digital:

- Uknown brand gamepad with a throttle.
Don't remember if it had shoulder buttons.

- Gravis GamepadPro
a classic, too bad it's not USB.

- SNES->PC adapter
An actual SNES controller, using a device that plugged into the Parallel port and some kind of Joy2key program. Still have it but too much of a hassle to use with real USB controllers out there.


In that digital era, I've used joysticks for analog controls. I had one digital that was ok but broke, one analog that was a piece of crap (but I didn't know better) and one day I bought one of those kind of realistic thingies. It was great but I never use it anymore (not USB).


Analog:
- PS1
My favorite for a very long time. Felt very natural and of course played great with the PSX emulators.

- Saitek Wireless P2900
I have big hands so this felt much more comfortable than the PS1 pad. Only problem is after 2-3 years the rechargeable batteries completely die (don't hold a charge), which is a problem because they're custom. I can probably get new batteries from Saitek but haven't bothered yet.

- 'Saitake' controller
This is an El Cheapo chinese clone PS pad, with vibration but without wireless (USB). It was the cheapest pad I've ever bought by far (I think it was something like $7), but it's actually a pretty decent controller. Shows that you don't need to pay a lot to get something that does the job.


Other:
- Hotrod joystick
Only for arcade, a very good build quality so worth picking one up if you find it on the cheap. Nowadays though I would go for an X-Arcade tankstick if I wanted another 2 player joystick (USB + has a trackball).

- 'King of Boxer Figheing' wireless arcade stick
My latest find and probably the most interesting, although not the best joystick. It's crap compared to the Hotrod, but it has a few interesting qualities. I've found it at a decent price while shopping for an arcade stick, and decided to give it a go. It's basically a wireless PS2 controller (similar to the one in the Guitar for the Hero game) built into a pretty decent arcade stick casing. It has vibration (never used it) and two analog sticks that looks like trackballs (but are analog joysticks, the ball doesn't spin). The thing is named "Tekken" and the box has some Tekken character and images, but the joystick markee has KOF characters and says "King of Boxers Figheing 2009" (misspelling and everything). It's not a mistake in packaging because the stick shows in the box very accurately represented. It's completely plug & play, and comes with USB and PS2 plugs. What I like is that the wireless takes normal batteries (so easy to replace), and the box is just right in weight to put on your lap while playing on the TV. What I don't like is that it has a bit of inptu lag, and I feel the buttons have to be pushed hard to be registered. It doesn't matter if you play a button smasher, but you can really feel the quality difference compared to the Hotrod. Build quality internally isn't great it's all soldered, whereas sticks like the hotrod use some kind of connectors in the wires that make it easy to swap buttons/controllers. I may decide to keep the box but replace the buttons and sticks one day...

Well, longer post than what I expected but hopefully it'll help you find what you look for.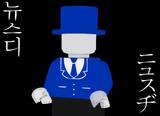 [download a life]