Tried it on a friend's iPhone... but the C64 app sucks, stay away from it.

It has a nice looking interface but fullscreen is unplayable unless you have transparent fingers. Their base game selection is a joke (at lest you get Bruce Lee for free) and they expect you to pony up 99c per additional game (like Nebulus or Paradroid).

Other than that, Bruce Lee is playable at least. Fun for some quick play so there is some value in the app if you don't want to "Jailbreak" your phone. Didn't try much other than that.

Give me Frodo on the GP2X Wiz any day. I wonder if there's an N95 version...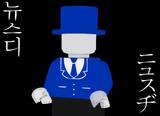 [download a life]