In the past couple of years, I've been playing quite a bit with my NDS during the daily commute.
Little by little, I've found and finished a bunch of really good RPGs, ARPGs, and adventure games.
Can you recommend any others I could try next?

I've finished these (so obviously liked them):
- Suikoden Tierkreis
- Shin Megami Tensei: Devil Survivor
- The World Ends With You
- Zelda Phantom Hourglass
- GTA: Chinatown Wars
- Castlevania: Order of Ecclesia
- The four Phoenix Wrights
- And making good progress on the Final Fantasy IV remake.

Now to compare, there are some other games that I've tried but kind of lost interest for various reasons. They're not that bad but didn't hook me that much.
- Lost In Blue
- Sonic Dark Brotherhood
- Animal Crossing
- Starfox Command
- Rayman DS
- Kung Fu Panda

I'd love to play something like Tales of Symphonia (GC) on the DS, that game had a great (although completely over-the-top) story, and I loved how they pulled a SoTN with a brand new world appearing when it looks like you're about to finish the game.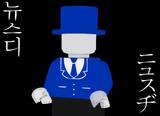 [download a life]