If you have a spare old TV, you can put it on with footage from an old anime like Hell City Shinjuku (like in Johnny Mnemomic).

What would be cool (but probably not cheap) is if you could print some arcade cabinet artwork and put it on the walls. Instead, maybe you can find some material in the same color as the colors from cabinet art, and make colored stripes on the walls for a "futuristic 80's" look. Also, you can leave some old items lyong around, like video game magazines, cassette tapes, etc. If you have an old broken computer somewhere, it could decorate a corner.

As for activities, not sure if you had that in the US, but there used to be a TV show where contestants could with a NES if they finished the first level of SMB faster than anybody else, using only one life. You can have a competition with the same rules.; the level is not that hard and pretty short so everybody could have a go.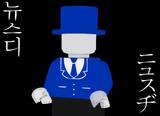 [download a life]