Had a quick look at the site and it looks really good!
How did you get it working with the US version? Homebrew Channel?

That said I probably won't have any time to play it anytime soon (as with anything on a TV console).
It took me 15 freaking months to finish FF XIII with serious gaps of abstinence.

Now I pretty much do all my gaming on portable machines.
Got a 3DS but after Ghost Recon and SF4 there's not much else going for it.

For the NDS I've been going through Eltrian Oddisey II recently.
The game is extremely brutal in difficulty but somehow satisfying.
Was a logical step after SMT: Strange Journey which I absolutely loved (but also horribly hard at times).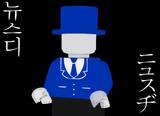 [download a life]