First I can think of a webcam.
For a live feed you will be constrained by your upload bandwidth anyway,
so the loss of image with a cam shouldn't be too much of a problem?

Alternatively, with a bit more hardware, you could output a video signal from your first PC (a clone of the main display),
and capture the video on a second PC. Slightly more expensive but will give you better image quality.

It's not necessarily expensive if you already have some old hardware lying around.
The second PC doesn't need to be very powerful in fact.
It only needs to have decent capture hardware and a good upload bandwidth.
If you don't have a webcam, it should be possible to get a digital camera running as one (controlled from the PC).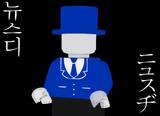 [download a life]