Got one on a whim. A bit on the heavy side but solid build quality and comfortable to hold if you've got big hands.

It's a pretty good Android machine by itself.
It has an app to map button to screen taps and gestures, which is good for games that don't have keyboard / bluetooth controller support.
Plenty of emus to choose from too. Only downside is the keyboard on screen isn't great (as in any android tablet/phone), so it plays best with console games.

Big new thing is PC game streaming. It works ok and seems to support a bunch of Steam games, but you have to have a real good wifi setup.
It plays great next to my computer, but in my bedroom the video becomes like an average youtube movie. I'll try again after upgrading my router to dual-band (5 ghz)...

It's not as cool as my GamePark machines (GP2X, Wiz, Canoo) but since the company stopped making them,
this is a solid replacement as far as non-Nintendo/Sony handheld goes (didn't like the Dingoo A320 - it feels too cheaply made).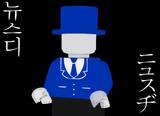 [download a life]