I gave it a try and it's an uplayable bugfest.
Used DSFix to change the resolution and fix mouse issues,
but ended up with only 1/4 of the screen being used and missing textures :(

Edit: found it ... I had to turn off AA in-game (instead of the config file for DSfix).
Game got lucky in the last google search before I unistalled it...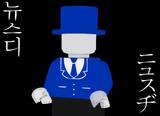 [download a life]