> So, i guess they found funding at Coleco? And Coleco is still alive?
>

According to AtariAge forum posts, the RVGS guys licensed the name from the company that holds the rights for Coleco (the original company went under).

There are still no concrete specs for a prototype; so this is just a marketing stunt for the time being. It's surreal how they are concentrating on hype instead of giving something more concrete. The upcoming toy fair should have more details, otherwise their kickstarter probably won't go very well.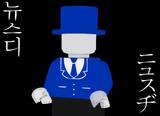 [download a life]