> Woohoo! I can get an empty NeoGeo arcade cabinet this weekend in trade for a
> crate of beer. I want to convert it into a mame cabinet. It has no monitor and I
> want to use an LCD monitor (I know that a real arcade tude is the best But I
> want to be able to move the machine. Does jpac also support LCD monitors?

J-PAC takes VGA at 31khz and divides the signal to output 15khz.
If your LCD takes 15khz you're in good shape.

Otherwise... why not just plug the VGA to the LCD instead?
You can still use the J-PAC for the rest of the cab components.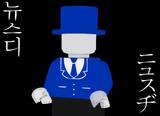 [download a life]