> I've got sound here.

Do you have full sound?
I have *some* sounds emulated, mostly system sounds. But no game that I have tried has sound (e.g. Stuntcopter). The documentation mentions that sound emulation is not fully implemented...

Maybe there's a new version, which one are you using? The one that I donwloaded from their site seems pretty old...

> You can't change your video settings in the OS, you have to change them in the
> options for Basilisk (sucks, I know). Go to the "Screen" tab in Basilisk II

Not that bad... I prefer "outside" settings than in-emu settings, it makes things easier.

> prefs and select "Direct X Full Screen" as your screen type, set your width and
> height then your number of colors (Black and White/1-bit is the second from the
> top in the drop down menu). That should do you.

I did that. But it doesn't want to know anything. Maybe it's related to the ROM Bios, I'm using an LC ROM, maybe I should try to use a MacPlus one...

> Basilisk II is the best 68k Mac emu out there and its free, its really you
> best option.

It's already much easier than Executor... that I tried long ago but found confusing and hard to use.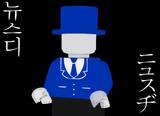 [download a life]