> the first one sound likes R-Type (which was ported to a handfull at the time..
> from the Master System to the MSX iirc, maybe the Mac had a port too ?)

It was far more primitive than R-Type... it may even be a small shareware game. Thanks for the answer anyway.

I've checked the Shmups page, but they have no Mac section over there. Oh well, the Mac has always been an undercover gaming machine ("Warcraft Three... Breakout... Super Breakout... photoshop..." :) ).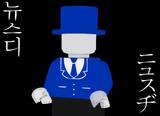 [download a life]