Not a "zurdo" so can't really say...

...but I personally find holding the D-pad on one hand and the stylus on the other very uncomfortable, so when I use the stylus it's usually by itself.

I can think of exceptions using the touchpad + buttons (e.g. Rayman DS), however these games have the option to use the D-pad + buttons.
For driving games, I've found using the touchpad too uncomfortable, so I resort to the D-pad as well.

So I would think that if regular console gaming isn't an issue, then you should be OK.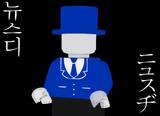 [download a life]