ok I'm getting somewhere. I've had to manually modify the Registry of the PocketPC. And the system doesn't come with a registry editor, so I've had to hunt for one. There are free versions, so don't waste your money on the commercial options.

All of this was to set up two system variables. I've then found out that I could use the .vim files from the Win32 version! So I've suddenly had a menu. Finally, I use the command "set ts=4", "set lines=11" and "set cols=27" to fix the display. I still have to come up with a way to put it in a config file, and to reduce the font size, but I can feel I'm almost there...

Edit:
I had to change the location of one of the system variables, but then it started recognizing the exrc startup file (usually called .exrc, but here its _exrc, probably for compatibility with PPC).

The right command for colums is set co=27 (nasty crashing bug on startup if you give an invalid option). Other than that, "set nowrap" is pretty useful.
Then I've copied most of my .vim files from my Win32 version. I started with all then removed those that I didn't use to avoid overload or other errors (some plugins would launch at startup, annoying since I wanted to get to the editing mode right away).

Syntax highliting works! I just have to change the font though, but well, its not a huge priority for now...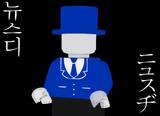 [download a life]