> That depends - the Atari has nastier audio/video hardware, but the Apple II > is bankswitched like a mofo. Neither are particularly great for first-
> timers.

I guess in that case I should rather port an existing emu...

> I would instead suggest some of the early Atari 6502 arcade games
> like Super Breakout.

I thought about Atari vector games, because they should go well with Flash's vector engine. However I'm concerned about game availability. I'd like my emu to include at least one public domain game, but I don't think there's anything public domain for Atari arcade hardware. I have developed a small way to import data from any files (so you could enter a link to a ROM to load it, from an external site), but I'd still like the emu to have *something* in it when booting it up. Is there some PD diagnostic program for it or something?

I also thought about Vectrex but the internals of that system seem more obscure than a Chinese book on compiler optimization.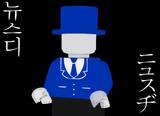 [download a life]