> Hmm, coincidentally again, i wrote a 6502 cpu core a few days ago, and found > it to be pretty easy. It only has fiftysomething official opcodes.

Heheh how about that. I agree, it doesn't seem much more complex once you write something to handle the variable addressing (I guess; I didn't start writing yet).

> I'd go for the AppleII if i were you, since you can test effects
> on the original machine (or doesn't it have some sort of built-in Basic/ASM?)

Actually the other reason I'm thinking of the AppleII is that its display is monochrome. It had color but it was some kind of trick (e.g. 0101 -> 2 red pixels, 1010 -> 2 purple pixels). So I think I can just do everything monochrome at first then worry about the rest. The only bottleneck would be handling the resolution.

So I guess I should first attempt to have a moderately fast updating monochrome screen of the dimensions of the Apple ][ screens (this is a no brainer with most languages, just Flash sucks for this).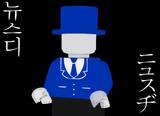 [download a life]