That excerpt is from a French comic, Asterix, for a volume that takes place in Corsica. Corsica is the island at the south of France, which inhabitants are very proud people, to the extent of, for some, being agressive separatists. There's even terrorist groups (look at Northern Ireland, imagine how it would be if the whole island was under British control)!

Because of this pride, they are also known to have bitter family feuds between them (It's all very mediterranean... the Sicilian Vendetta is not far in concept).

So the comic has an ongoing joke that they are fighting for something not really worth fighting about (I think it is, in that page, about somebody not borrowing a donkey to somebody else three generations ago, and then things escalated from here).

This fight, of course, weakens them against the common enemy (the Romans), but they manage to win when they realize that they are stronger fighting together.

Hey, its a comic, of course its cheesy.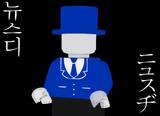 [download a life]