What I've understood:

Ratinho: "Holy smokes! What's your problem again?"

Razoola: "The problem, Ratinho, is that El Semi is fucking around about my hair and saying that he's a better dumper than I am!"

El Semi: "Of course, look closely: dumpers have a reputation of being well-groomed nerds. I'm a dumper AND I'm clean!"

Arron Giles: "I don't know but I know what's better: dump a ton of heavy roms to run in MAME so nobody has a machine powerful enough to run them. Mwahaha".

Billy JR: "I don't care about laws. I make booklegs anyways, fill my pockets with dough, and get laid a lot. After all, women like guys with fat wallets, so who needs to look attractive?"

Datena: "I knew videogames were [capeta], but I didn't even imagine they were made by people as ugly as him!"

Final user: "What, ME worry? I WANT TO PLAY THAT ROM AND TO HELL WITH THE REST".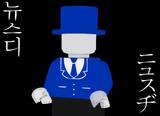 [download a life]