So this company wants to go after the Gameboy monopoly. They see that all rival handhels failed the test of time in comparison, and they also have another competitor from Sony. So they release the GP32, for which they probably had a lot of spare parts from manufacturing PDA's for other companies. Commercially they do not so bad (at least to want to invest in a new version), and they found out to be very popular with hobby programmers.

Now in the Big Media world, "hobbyists" tend to be seen as pirates. After all, knowing how the machine works usually comes along with the knowledge to defeat the protection mechanisms. Doesn't matter if serious hobbyists are legit. This is a world where stunt men (who have been screwed over big time in their contracts for decades) do cinema ads on how MP3 file sharing steals the bread from the mouth of their babies.

If you release a "hobbyist" machine, the Big Media companies (the ones with big advertisement dollars from pimping game development studios) won't even look at your thing. But if you release a "Big Media" machine, it has to have all sort of embedded protections to prevent any fiddling with it, in order to give trust to the publishers that their margins of big% per game won't shrink.

So what's a company to do? Easy. Split into two subsidiaries, and have them develop one machine each. If the bet pays off, both with be successful. If only one is successful, it may recoup the losses from the other. Note how one of the machines (GPX) is marketed as a "games" machine, and the other is a "media player" (GPX2). Both can play games, sure, but notice how the "media player" is the open one. I expect to see a lot less of commercial games for that one. And it also explains the cheap price.

Not a bad idea if you ask me, it diversifies the investment risk while keeping focus on new portable technologies.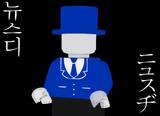 [download a life]