check on the resolution...
For example, SF2 is 384x224.
384/224 = 1.7142
4:3 = 4/3 aspect ratio = 1.3333
16:9 = 16/9 ratio = 1.7777

Therefore I would say that 16:9 is more appropriate if you can run at the original resolution. If not, try using 800x600 at 2x zoom with black borders on the top and lower halves of the screen (400x300 is closest to 384x224).

And so on... a bit of math can tell you what's the best to use depending on your available resolutions.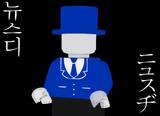 [download a life]