> Almost all arcade games are 4:3 or 3:4 (vertical) as RoushiMSX points, with the
> exception of multi-monitor games and a couple of games which have LCD displays
> attached. The pixel resolution is meaningless for aspect ratio. For example,

I remember seeing arcade machines of SF2 at different aspects ratio, so I suspected there was some amount of configurability with arcade monitors...

> Burguer Time has a resolution of 240x240, but it was shown in a standard 4:3
> arcade monitor, and it was designed so. You can see that odd resolution games
> are designed always for 4:3 monitors just looking at round graphics in them. For

Good tip :-)

> All this senseless blurb should be rewritten properly and added to the FAQ,
> IMHO.

Agreed, no need to rewrite though.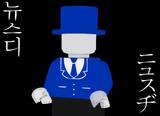 [download a life]