Four years after this post, I'm still looking for one of the games...


In reply to:

---

(It) was something with a couple of "space eyes". It looked like space invaders, except that the layout is left-right instead from top-down. I'm not sure but I think there were two phases to the game. The first is to get past a series of aliens to land on a planet. Then you have to do some stuff in the planet before coming back.
The "space eyes" part comes that when you lose, there are a couple of eyes that appear in the screen, looking left and right, kind of like scorning your pitiful playing.

---

The other two I enquired about in the post are Star Clones and Star Blazer.
But I can't find this one... anybody with a good memory remembers it?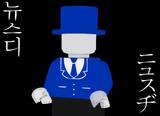 [download a life]