I'm sure it may boil down to a faulty unit, but damn. I'd be interested in knowing other people's experiences, so let me know if you had a similar problem before?

I've bought yesterday an upscaling DVD player / HDD recorder in hopes of replacing my El Cheapo (Textronics) DVD player which, although cool (no region), is not the best it could be. I also decided to get one with an HDD drive as they (supposedly) can play DivX movies from it.

Unfortunately after setting it up I'm struck with massive static ghosting. In other words, some type of translucent shadow appears around things, and is most noticeable with black letters over white b/g. I've taken pictures comparing it to the TV's menu and it's not just my eyes playing tricks... [note: both TV and player are Philips].

The worst thing is that this happens with the HDMI connection. I'm really amazed that this "new" technology can suffer from these types of bugs. I was expecting something close to PC quality (since HDMI is supposedly same or better than DVI), but this is really S-Video with better color [maybe Component quality, although others here have said they did not have issues].

So I went to check online, and it seems that this problem plagues many LCD monitors (not just my brand or my model).

I'm not surprised then that Blueray/HDTV is not taking off. With this kind of crap quality, extra cripsness is lost. To be honest, in motion you barely notice, so you *can* live with it. But come on... this HDMI thing was hyped up so much that I was expecting something better than S-Video on steroids. Otherwise, might as well keep using component.

There's another problem with it, but that may be the unit (or worse, the TV)... in that no sound comes through the HDMI. Now to wait to see if the warranty works...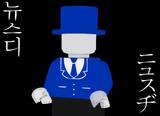 [download a life]