I've tried with two different cables, the one that came with the box, and one that I've bought because the box did not advertise it had an HDMI cable [they probably added the cable after printing the manual].

I know what you mean about audio... there's a menu that allows to disable HDMI audio. However, both settings have the same result (one is expected, but I thought maybe it would switch something).

The one more thing I can try is disconnecting the SVideo audio in case there is some obscure setting that disables HDMI automatically (the previous model had this issue with optical audio, apparently).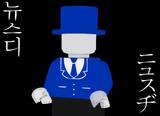 [download a life]