So I got a tech to come over and take a look. He fixed it in less than 30 seconds by... powercycling the TV! Apparently it runs some config detection after a cold boot so you need to do it when you change the connections.

I guess they don't put that on the FAQ online because it's too embarassing... but they could have given me the fix over the phone...

I also got my DVD player to the store to see about the ghosting. I was shown other models and other brands, and they all had the problem... you do barely notice it when in motion. Oh well.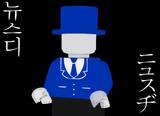 [download a life]