I've been looking at a few recently. They're somehow quite hard to find (most pads are some PS dual shock clone).

Good that they have new joysticks announced, although not too sure about getting one with only one button. I like what they did to the C64 competition USB joystick (added 2 extra buttons), although I couldn't get my hands on one as no store I've found shipped internationally.

I ended up settling for a cheap-ass gamepad from "Saitake" (not Saitek) which although the plastic does feel cheap, does the job quite well for the price (U$S 8, yes eight). It looks like a PS Dual shock with rumble, but slightly bigger casing. The analog sticks work but are very stiff and not very precise (unlike the PS's ones which are very smooth and feel solid), but for emulating 8-way joys it's
more than enough.

I've also found a Korean arcade joystick (forgot the name, not Saulabi, this one is smaller than those) which I bought for a gift, I thought it was not that good in the shop (but good enough for a first time arcade stick user), but after playing with it I regret not picking one up for myself (they're all gone now).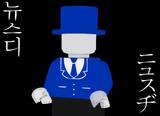 [download a life]