It's not a stupid question.

It should have been possible (after all it's just a DVD) but like with most consoles, the manufacturer has some specific protection to prevent burned CDs/DVDs from being recognized.

The only way to do so is to modify the hardware to force it take your discs, there are several ways with several degrees of legality (most in a gray area).

The better alternative is to just plug a PC into the TV, or use an "open" console such as the GP2X or the Pandora which have TV-out and allow you to run whatever you want from an SD card. These two are portable though, so you might just ditch the TV-out altogether. Alternatively, a laptop with HDMI output combined with a Hotrod Joystick gives you something no current console can do..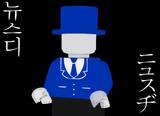 [download a life]