Right, getting RGB allows upscaling to HD with very good quality.

Actually I got my hands on a system that was modded to RGB by the original reseller (the mod was done for all PC Engines sold in France).

It comes with a SCART cable that goes through a little box with a few capacitors and resistors (I think to amplify the signal).

I'm on the fence as to try to get another cable or just spend a bit more and get one of the boxes that plug to the back of the console for video.

I guess I ought to test those capacitors in the cable as well...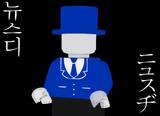 [download a life]