return to Retrogames main page
As most Retrogames visitors already know, HanaHo Games is responsible for a range of emulation related products for the home, including the popular HotRod joystick panel, ArcadePC cabinets, and the new ArcadeWerx (self-assembled cabinet that works with the Hotrod!). However, they're also the same company that's been buidling arcade cabinets for Capcom and Sega for many years - so these are the "real thing." If you've read my old ArcadePC review, then I should clarify that I sold that cabinet and purchased a slightly different configuration several months later. The old one was awesome, but this new one is simply perfect in my opinion. This review is about my new ArcadePC Ultra mini cabinet which has a real working coin box and no keyboard drawer - it looks and works like a real cabinet, which is what I was after.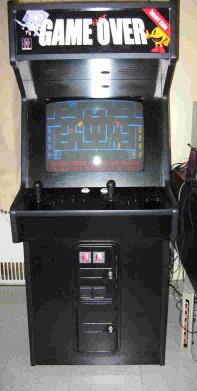 Front view
Why not simply buy an old arcade cabinet and convert it, you might ask? There are several reasons, and I did consider that option. As visitors to Saint's BYOAC know, some people even build their own cabinets from scratch. Personally I think whatever suits your needs and wishes is your best choice. In my case, I needed something small since I live in a small New York City apartment, and building one is simply not a possibility for me. Even if I could build my own, there's no way I could match the quality of HanaHo's cabinets. And a used cabinet would generally be too big and too much work to convert to an emu cabinet.
The ArcadePC Ultra mini cabinet is a great size for small spaces at 23" wide, 32" deep, and 60" tall. It weighs about 200 lbs with the monitor inside. I also ordered the 11" stand to raise it to traditional standing height, but later decided it was more comfortable and fun to sit down, so for now my stand is not being used. But I have it in case I ever decide to use it again. Note that my ArcadePC Ultra is a custom configuration as follows:
no monitor, since I installed a Wells Gardner u3100 myself
working coin box
no control panel overlay, it's just black
no keyboard drawer, the panel area is exactly like a real machine
no PC included
HanaHo used to offer Wells Gardner u3100 19" monitors with their ArcadePC's, but changed over to using good quality PC monitors because the u3100's are difficult to use for newbies, and Wells Gardner's quality control is questionable. In fact, I had to go through 2 monitors and perform "surgery" on them to get one working one! That's a long frustrating story, but the picture this monitor gives is worth the hassle for me. It simply looks like a real arcade screen, but it connects directly to the PC. If you're daring and willing to deal with niggly technical issues, I do recommend the u3100. The end result using AdvanceMAME is ridiculously good. Otherwise, using a good sized PC monitor is your best bet.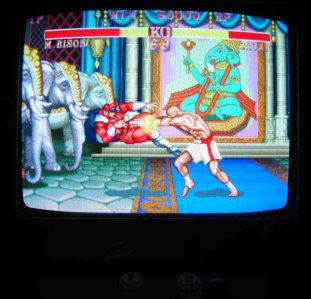 SF2 screen
The control panel is the typical HotRod layout, and works perfectly. I also want to buy a panel with a trackball, but since it's a customized product, I'm still waiting for them to give it the OK.Hopefully soon, since I'm a big "Missile Command" fan. For joystick and button games, my current panel is simply perfect - it IS the arcade. HanaHo uses real arcade joysticks and buttons, and it shows. The coin slots are also wired to the control panel, registering "3" and "4" on the keyboard respectively. It's pretty cool being able to insert real quarters, and IMO does add to the experience of using an arcade cabinet. It's not an option that makes sense for everyone, but it's available if you want it.
The delivery was carried out expertly by Pilot Air, and the unit arrived in pristine condition. HanaHo does a good job of wrapping the unit snugly in layers of plastic and cardboard. If you decide to buy an ArcadePC, definitely have someone around to help out when it's delivered, since they only bring it to your door.
If you've ever wanted to own a real arcade cabinet, and prefer a brand new unit that looks and operates just like the real thing, then the ArcadePC is impossible to beat! Keep in mind there are other models as well, from full size units with bigger screens to cocktail table designs. If you don't see exactly what you're interested in, just ask - they WILL do custom work if possible, but it can take a VERY long time.
Here are several more photos - they say much more than mere words. Note the marquee is my own design, printed out on my Epson Slylus 740 using Panoramic Photo Paper at 720dpi. The Capcom stickers came with the unit.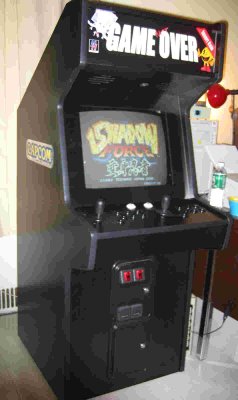 Angle view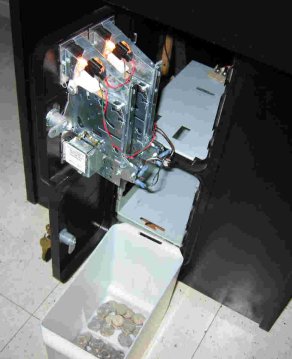 Coin door & box open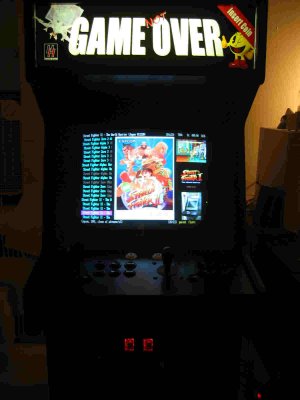 Lights out :)
Office chair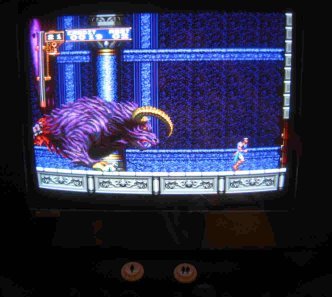 Dracula X screen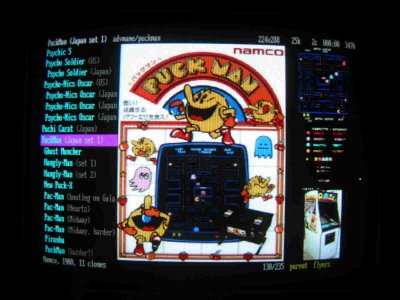 AdvanceMenu screen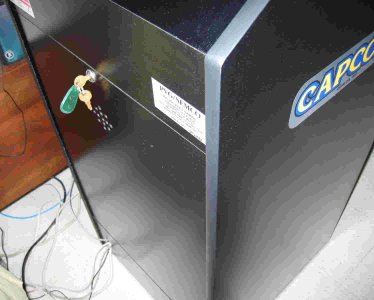 Back view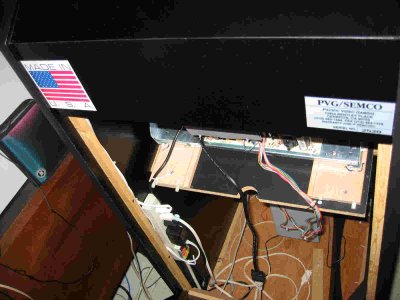 Back view open