News
MessageBoards:
- General emulation
- NeoGeo emulation
- Official MAME board
- Console emulation
- Current Affairs
- CPS emulation board
- Pinball Simulation
- Hardware/Tech Support
- Msgboard Suggestions
- Emulator Programming
- Game Collecting
- Gaming Today
- Computer Emulation
- Official MAMECE3 board
- Pocket PC Emulation
- Off-Topic Discussion

Misc. things
Pocket PC Emulation
Opi's Interviews - 2 - (01/23/2001)
Cowering's Goodxxx Tools
(last updated 07/11/2003)
#Retrogamers (EFnet IRC)
Web Links
(last updated 03/13/2001)
IRC Quotes
Other Stuff (art,reviews...)

Arcade Emulation:
Callus
MAME
NeoGeo
Raine
Retrocade
System16
M72

Console Emulation:
Atari 2600/7800
PCE/TG16
Gameboy
NES - 03/07/2001
SNES - 03/04/2001
Nintendo64
Game Gear
Sega Master System
Genesis/Megadrive


© Retrogames Internet
All Rights Reserved

Your staff: Atila, Prophet, Dutch, Chris, Richard, David, Opi, Aries, Dhalamar, Metallik, MetaFox & RocLobsta Griking

Site Design: chemical


Est. April 1st, 1998

Tuesday, September 30th 2008 - Last updated @ 22:26 EST
PSPColem v1.2.0
Here is a new (final ?) version of PSPColem the Colecovision Emulator for PSP.

For those who haven't seen previous versions, ColEm is one of the best emulator of the ColecoVision videogame system written by Marat Fayzullin. It's running on FreeBSD, HP-UX, SunOS, Solaris, Linux, and other Unix systems. PSPColem is a port to PSP of Colem (Unix version 1.0).

What's new in version 1.2.0 :
Cheat support !
Memory monitoring engine to find your own cheat code !
Zip rom files are now decompressed in memory (much faster !)
New render modes and vertical shift feature
Improve file requester with virtual keyboard to choose sequentially rom files beginning with a given letter

Add documentation for settings in help menu

A thumbnail image is now displayed in the file requester while selecting any file with the same name of a previously saved game (roms, keyboard, settings). It might be very helpful to recognize that game later if you have thousands of different games in your rom folder !

The virtual keyboard is now usable in the file requester menu to choose the first letter of the game you search !

In the emulator menu you can go directly to keyboard and settings menu using the L-Trigger key.

Fix IR keyboard issue with fw >= 3.80 for FAT PSP

New default keyboard mapping

Add Moon Patrol music to EBOOT

Source code can now be compiled to build a linux version
- TheInformer
AAE Alpha Build 87 "Reboot Release"

Per the homepage...
"Well, that took longer than I thought. There are so many changes it's a new emulator. We'll call this the "Reboot Release"...StarWars is now working, but Major Havoc is not there yet. I have Alpha One working perfectly in a test build, but it's not included in this release. Joystick support is still not there yet, but will be soon. I'm almost done. I'm also open to suggestions on a new GUI design..."
- Fangface
Gens32 Surreal 1.79 BadBoy

What's new...
1)Try to fix the bugs on ATI HD2600 etc..
2)Adjust DAC.
3)ADjust YM2612.
4)Adjust PCM.
5)Deleted some filters.Update Gens32 Surreal II.
6)Update Gens32 IO for some hack use. - Fangface
Monday, September 29th 2008 - Last updated @ 22:50 EST
DOSBox 0.72 out

:: New build : DOSBox 0.72 (09/28/2008)
Windows build is available. (No debugger-enabled build provided) Long time no see. As I reset the overall compiler settings and patches, several features are currently disabled.
New CVS source was used and there are a few noticable changes.

To specify CPU cycles on shell prompt, type "cycles fixed nnnnn"
Added a parameter called "-securemode"

The following features were removed.

MT32, Direct3D, OpenglHQ, Printer patch, VGAParts, Innovation sound, OverscanTo use these features, please use my previous builds or the builds of others(for example, gulikoza�s) instead.

Pressing Alt-tab in fullscreen works fine.
Some patches like openglide were updated.
Fixed some minor bugs.
- TheInformer
WinArcadia 8.11

What's new...
"Project|Save screenshot as PCX..." command.
"Macro|Generate AVIs?" option (WinArcadia).
Instructor 50: "Graphics|Fill segment intersections?" option.
Miscellaneous improvements and bug fixes. - Fangface
Nintendulator v0.965 Beta - 2008/09/28 Update

There appears to be no indication of what's new. Nonetheless, get it here - Fangface
Sunday, September 28th 2008 - Last updated @ 16:01 EST
Bruce Lee - A remake of the classic Commodore 64 game written by Mark Rosten. I used to play this game on the Apple II and had forgotten all about it. - TheInformer
jpcsp v0.08 rev428 - PSP Emulator for Windows - The JCPSP Team have released a new version of the Java PSP Emulator for Windows.

Changes since last release (rev339)
jpcsp v0.08 revision 428


Fixes to many HLE modules
Introducing Instruction Counter
Startup support for GE (Graphics engine) some demos works
HLE emulation of System Memory module
Support for kxploit to memory stick browser
Rewrote pspdisplay.It should be more compatible with all videocards
UmdChooser for select any folder you like for your isos

Added CSO file format support for umd.
- TheInformer
Glow v0.9 - Glow is a remake, with a few twists, of the classic game Asteroids. This game was the author's entry in a programming contest at RetroEmu.

- TheInformer
Friday, September 26th 2008 - Last updated @ 11:56 EST
Thursday, September 25th 2008 - Last updated @ 07:13 EST
Atari++ 1.55

What's new...
- Fixed a couple of bugs in the disk emulation, thanks to Konrad Kokoszkiewicz for finding them.
- Read and write capacity (815 commands) did not check for all supported disk layout types and hard-disk partitions,
- Speedy commands were recognized and interfered even if the speedy emulation was turned off,
- Disk status wasn't returned correctly for high-density drives
- Fixed a parsing/error handling bug if the initial configuration files were incorrect.
- Fixed the implementation of ZFR1 in the mathpack patch.
- Fixed the implementation of FFRAC in mathpack patch.
- Added constants required by BASIC for the patch.
- This release comes with a new release of Os++, the emulator operating system. For the first time, this release is complete and includes a math-pack whose functions should be both faster and more precise than the original implementation. Thanks to B. Watson for continuously pushing me - it's done now.
- Minor streamlining in the CIO implementation in Os++.
- This release adds a STDIO interface to atari++, allowing it to read keyboard or editor input from the command line, and echo-ing output to stdout. This feature can be used for batch-processing.
- Compared to the beta release, this version fixes one bug in the BCDToInt math pack routine (also known as FPI) which did not handle carry-over correctly.
- Writing 0 to SKCTL now also resets the pokey timers as it emulates the POKEY soft reset.
- Pokey STIMER also resets the poly-counters now, as it should.
- Os++ includes minor fixes for the cursor rendering and interaction of S: with E:. Writing to S: now shields the cursor correctly. - Fangface
Wall Street - the video game

When opening newspapers and seeing what's going on in the economy, one takes a moment to ponder what we can learn from the past (page courtesy of MAWS). - newsdee
Wednesday, September 24th 2008 - Last updated @ 11:25 EST
Yabause 0.9.7

A new version of the GPL Sega Saturn Emulator has been released. It supports several platforms, including PC, Mac, Linux, Dreamcast and Wii. - newsdee
Tuesday, September 23rd 2008 - Last updated @ 10:33 EST
Ootake 1.56

What's new...
- "Configure Save&Load Button" menu was added to "File" menu. The key(button) of "SaveState & LoadState" can be set. Please use this menu when you want to use the [S][L]key(default) because of other operations, too.
- In "Rayxanber II", when the speed setting of TurboButton(AutoFire) is "High", the problem that the button was not occasionally accepted was solved.
- In the domo of "Uchuu Senkan Yamato", when fast CD-ROM drive is used the problem that the voice became interrupted occasionally was solved.
- When the check of "Fast CD"("Speed" menu) is removed, the speed of the CD-ROM access is brought close at the speed of a real machine.
- Additionally, a detailed part has been improved and corrected. - Fangface
WinArcadia 8.1

What's new...
"Project|Save screenshot as PCX..." command.
"Macro|Generate AVIs?" option (WinArcadia).
Instructor 50: "Graphics|Fill segment intersections?" option.
Miscellaneous improvements and bug fixes. - Fangface
Sunday, September 21st 2008 - Last updated @ 16:08 EST
Saturday, September 20th 2008 - Last updated @ 23:46 EST
Atari USB joystick for Christmas?
From the web page:

Is this something you'd like to see being sold on atari.com this holiday season?

Works with all Direct Input games under Windows, recognized and works with MAME on Apple OSX as well as Linux, even works with DOSbox games.

Also has a hidden surprise on the PC board for hardware hackers...

Want to get some feedback from everyone.

Curt

I certainly would like to pick up a few of these if they ever became available! - TheInformer
FB Alpha 0.2.96.97 Release
Here's what's new:
Added decryption of the Neo Geo M1 roms, thanks to Andreas Naive and Haze [Barry]
Added clone of Marvel vs Capcom to the CPS-2 driver [Barry]
Added clone of Tengai to the Psikyo driver [Barry]
Moved Cps1Draw() out of a loop resuling in a big speed up for CPS-1 [Barry]
Added a "Deselect All" button to the IPS Manager dialog [Barry]

Fixed an issue with the menu translation template [Barry]

Matched all sets to MAME 0.127u4 [Barry]
You can download the new version here:TheInformer
Friday, September 19th 2008 - Last updated @ 19:38 EST
Ultima V for TI89 calculator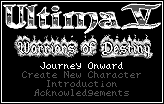 Ultima V: Warriors of Destiny
Original by Lord British (Richard Garriott),
Origin Systems.

Remake by Ranman (David Randall)


Highlights:
400 hours of game play
classic turn based RPG
26 menu driven commands
user commands up to 6 party members
175 NPC (non-playable characters)
NPCs have detailed conversations scripts
NPCs have a unique daily schedules

512 tiles (11x11 pixel, 4 level grayscale)

2 world maps (each with a size of 256x256 tiles)

32 multi level towns (each level size 32x32 tiles)

8 dungeons each with 8 levels

31 types of weapons

7 types of armor

5 types of shields

5 types of helmets

5 magic amulets

3 magic rings

8 magic potions

8 magic scrolls

8 reagents (reagents are used to mix magic spells)

48 magic spells

food, keys, torches, & gems

24 additional items

Day and night

Light point source

Clear line of site
- TheInformer
Wine 1.1.5 Released

Wine is an Open Source implementation of the Windows API on top of X, OpenGL, and Unix. You can check out a list of what's new or changed here.

- TheInformer
Thursday, September 18th 2008 - Last updated @ 13:41 EST
Wednesday, September 17th 2008 - Last updated @ 22:55 EST
Tuesday, September 16th 2008 - Last updated @ 21:53 EST
iDeaS 1.0.2.6 for Windows released
Final version 1.0.2.6 is now available. Changes:
Add support for Fog Alpha.
Add support for Edge Marking (only with shaders).
Add support for 8MBit save types.
Add support for RAM_COUNT register (only Vertex).
Fixed some bugs in Frames Skip options.
Fixed a bug savestate routines.
Fixed a bug in BGxCNT registers.
Fixed some bugs in console output.
- TheInformer
Atari++ v1.55 cvs snapshot - A new version of the multi Atari emulator Atari++ has been released. Atari++ emulates the Atari 5200, Atari 400, 800, 400XL, 800XL and 130XE. - TheInformer
SpecEmu 2.7 build 15/09/08

What's new...
- Added a display/attribute address mouse tracker in Tool Window 1 (View Menu) - Fangface
Monday, September 15th 2008 - Last updated @ 07:21 EST
Sunday, September 14th 2008 - Last updated @ 06:54 EST
Transcendence 0.99c is a freeware 2D top-down space shooter quest to reach the galactic core. A nice mix between Privateer and Nethack, but beware the timesink!

- newsdee
Saturday, September 13th 2008 - Last updated @ 23:20 EST
Friday, September 12th 2008 - Last updated @ 18:00 EST
MAME 0.127u3

What's new...
HERE - Fangface
WinArcadia 8.0

What's new...
Emulation of Signetics Instructor 50 computer.
Miscellaneous improvements and bug fixes. - Fangface
Final Burn Alpha 0.2.96.96

What's new...
Ported MAME's M6809 CPU core [Barry]
Ported MAME's HD6309 CPU core [Barry]
Ported MAME's M6800, HD63701 CPU cores [Barry]
Added an interface to the M6809 core and added support for it to BurnTimer and the cheat module [Barry]
Added an interface to the HD6309 core and added support for it to BurnTimer and the cheat module [Barry]
Added an interface to the M6800 and family cores and added support for them to BurnTimer and the cheat module [Barry]
Added driver for Double Dragon and Double Dragon II [Barry]
Added driver for Ghouls & Ghosts [Barry]
Added driver for Renegade [Barry]
Added SNK16 driver [iq_132]
Added clone of The New Zealand Story to it's driver [iq_132]
Added analog inputs to the SNK16 driver [Barry]
Hooked up the sound CPU comms in the Power Instinct 2 driver [Barry]
Very big update to the Jukebox [Captain CPS-X]
Rewrote favourites module - delete your old favorites.dat file [Captain CPS-X]
Added support for icons in the gamelists [Captain CPS-X]
Added options to configure vertical and horizontal full-screen resolutions seperately [Captain CPS-X]
Fixed another bug when FBA was used under Vista [Captain CPS-X]
Made the inputs dialog stop the sound properly when using the shortcut key [Captain CPS-X]
Applied the dialog sound fix above to the dip switch and cheat dialogs [Barry]
Fixed a memory leak when loading PNGs [Captain CPS-X]
Optimised the automatic support file download feature [Captain CPS-X]
Matched all sets to MAME 0.127u2 [Barry] - Fangface
Wednesday, September 10th 2008 - Last updated @ 23:31 EST
GeoGebra is a free and multi-platform dynamic mathematics software for schools that joins geometry, algebra and calculus. I used this open source software in my history of mathematics class and had a great time with it. No protractor and compass are needed any more to work with geometry. Here are a few screen shots. - TheInformer
A First Look at OpenOffice.org 3.0


Free, alternative office suite OpenOffice.org's latest version 3.0 is now available for download by testers. OpenOffice.org 3.0 Release Candidate 1 offers several new features and improvements from its last major release, including better Mac support and collaboration capabilities. Let's take a look at the notable features so you can decide if it's worth taking another look at OpenOffice.org as an alternative to Microsoft Office. - TheInformer
GP2X Wiz - New Open Handheld Console announced

This is the next generation of GamePark Holdings' GP2X console. Built on open-source software, they welcome homebrew development - unlike traditional systems that need to be hacked.

The current GP2X enjoys from a very active community that creates several great games and ported many emulators to it. Since most 2D consoles already reach 60FPS on an overclocked GP2X, this new version should be truly great looking at the specs:

- 533 Mhz CPU (more than double than previous model)
- hardware 3D acceleration
- 2.8 inch 320x240 OLED Touchscreen (+ stylus)
- 2000mAh Lithium battery (estimated to last 5 hours)
- 64 MB RAM
- 1 GB on Flash storage
- SD Card slot
- Stereo sound
- Microphone
- Plays music and movie file formats
- Flash 7 support

The 2nd D-pad shown in the current site should be replaced by 4 proper buttons by release date. Software only needs to be recompiled to run on the new hardware, so versions for the new console will be available very quickly.

The console is slated for release in November.

Thanks to newsdee for the news! - TheInformer
Friday, September 5th 2008 - Last updated @ 00:51 EST
Simply Google is a Google that has all of the various specialized services and searches out in the open and not hidden behind the deceptively simple Google home page. - TheInformer
TV Intros has a huge collection of the intros to past and present TV shows. It's a great trip down memory lane! - TheInformer
MAME 0.127u2 update released. Thanks to wildcat for the news. - TheInformer
Thursday, September 4th 2008 - Last updated @ 22:03 EST
Square Enix planning to take over Tecmo

The Tecmo name may soon become just a memory in retrogamers' hearts.

Bloomberg reports that Square Enix is planning a friendly takeover of Tecmo. Tecmo has not yet answered to the offer, but the famed RPG makers are offering to buy stock 30% higher than the current stock price.

The offer follows a Tecmo announcement last week that its profits went down by half and that its president, Yoshimi Yasuda, will quit on September 1st.

Kotaku reports of a press conference where Square Enix president Yoichi Wada commented the brand would be assimilated to Square or Taito (which they acquired in 2005).

He hasn't mentioned of any Final Fantasy / Dead or Alive crossovers, but perhaps in celebration Square has released Super Mario RPG to the Wii Virtual Console.

Thanks to newsdee for this information! - TheInformer
VirtualBox v2.0 Released!
released 2008-09-04

This version is a major update. The following major new features were added:
64 bits guest support (64 bits host only)
New native Leopard user interface on Mac OS X hosts
The GUI was converted from Qt3 to Qt4 with many visual improvements
New-version notifier
Guest property information interface
Host Interface Networking on Mac OS X hosts
New Host Interface Networking on Solaris hosts

Support for Nested Paging on modern AMD CPUs (major performance gain)

Framework for collecting performance and resource usage data (metrics)

Added SATA asynchronous IO (NCQ: Native Command Queuing) when accessing raw disks/partitions (major performance gain)

Clipboard integration for OS/2 Guests

Created separate SDK component featuring a new Python programming interface on Linux and Solaris hosts

Support for VHD disk images
In addition, the following items were fixed and/or added:
VMM: VT-x fixes
AHCI/SATA: improved performance
GUI: keyboard fixes
Linux installer: properly uninstall the package even if unregistering the DKMS module fails
Linux additions: the guest screen resolution is properly restored
Network: added support for jumbo frames (> 1536 bytes)
Shared Folders: fixed guest crash with Windows Media Player 11

Mac OS X: Ctrl+Left mouse click doesn't simulate a right mouse click in the guest anymore. Use Hostkey+Left for a right mouse click emulation. (bug #1766)
- TheInformer
Tuesday, September 2nd 2008 - Last updated @ 18:55 EST
VirtualBox 1.6.6

VirtualBox is a family of powerful x86 virtualization products for enterprise as well as home use. Not only is VirtualBox an extremely feature rich, high performance product for enterprise customers, it is also the only professional solution that is freely available as Open Source Software under the terms of the GNU General Public License (GPL).

Presently, VirtualBox runs on Windows, Linux, Macintosh and OpenSolaris hosts and supports a large number of guest operating systems including but not limited to Windows (NT 4.0, 2000, XP, Server 2003, Vista), DOS/Windows 3.x, Linux (2.4 and 2.6), and OpenBSD.

This is a maintenance release. The following items were fixed and/or added:
VMM: fixed excessive logging (bug #1901)
VMM: AMD-V stability fixes (bug #1685)
GUI: added support for Ctrl+Caps reversed keyboards (bug #1891)
SATA: fixed BSODs of Windows guests on a SATA disk (bug #1941)
SATA: fixed hard disk detection on Solaris 10 U5 (bug #1789)
VBoxHeadless: don't start the clipboard service (bug #1743)

VBoxHeadless: added -vrdp parameter which allows to start the VM session without VRDP (bug #1960)

VBoxManage: fixes to creating raw disk/partition VMDK files, now accepts removable media on Windows (bug #1869)

VRDP: fixed communication with MS Remote Resktop Connection on MacOS X (bug #1337)

VRDP: clipboard fixes (bug #1410)

VRDP: fixed crash during PAM authentication (bug #1953)

Shared Folders: fixed a regression introduced in version 1.6.2: the shared folders service was sometimes not properly installed (Windows guests only, bug #1915)

Shared Folders: don't deny to load a VM if a shared folder is not accessible (bug #822)

BIOS: allow to specify empty DMI strings (bug #1957)

OSE archive: added missing Makefiles (bug #1912)

Linux hosts: workaround for buggy gcc-4.3 compilers (e.g. openSUSE 11)

Linux hosts: one more fix for compiling the kernel modules on Linux 2.6.27 (bug #1962)

MacOS X hosts: shared folders unicode fix

Solaris hosts: fixed link issue (bug #1840)

Windows additions: allow to downgrade the package

Windows additions: fixed corrupted installer icon on Windows 2000 (bug #1486)

Windows additions: fixed bug when creating intermediate directories (bug #1870)

Windows additions: implemented /xres=, /yres= and /depth= switches for the installer (bug #1990)

Linux additions: properly unregister the misc device when unloading the kernel module

Linux additions: fixed startup order for recent Linux distributions again (e.g. openSUSE 11)

Linux additions: attempt to fix the autostart issue of !VBoxClient with Mandriva guests (bug #1699)

Linux additions: fixed detection of patched Linux 2.6.18 kernels of RHEL5 / FC6 / CentOS 5.2 (bugs #1899, #1973)

Linux additions: added new mount flags dmode, fmode, umask, dmask and fmask allowing to override the file mode (bug #1776)

Documentation: added a note that jumbo frames don't work (bug #1877)

Documentation: document special host interface names on openSUSE11 (bug #1892)
- TheInformer

Beware, I Live!



Believe it or not, Retrogames now will have a few more news posters to get the site going again.

Much thanks to Trebor, Hawq, and the other posters for their persistence and dedication in posting news and in general keeping us up to date about emulation happenings on the General Emulation board!

Also, thanks to the Current Affairs crew for keeping Retrogames 'interesting' heh. Word to all my CA bros.

Finally, thanks to Atila for adding me as a news poster.
- TheInformer
Read our Privacy Statement