X-Arcade homepage
If you've read my review of the standard X-Arcade, which is a 2 player unit, then you've already got a good understanding of what to expect from the new X-Arcade Solo. It's a very nice looking one player version of the X-Arcade, with a single joystick, 8 black action buttons, a start button, 2 extra buttons located on either side of the unit (useful as coin inserts in emulators or flippers in pinball games), a programming button on the back plus programmable mode switch and input/output ports.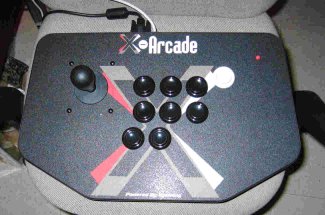 At about 17 inches wide, the Solo fits very comfortably on one's lap, and is much easier to make space for than the it's larger predecessor. The entire base is constructed of wood, and is nicely lined with black T-moulding. The controls are not originals from Happ, but replicas of those products. The joystick is similar to Happ Supers for example, but has a lighter feel to it. Personally I prefer the Happ originals, but these are good sticks and far better than the cheap plasticky ones you'll find on typical "arcade" sticks for consoles. The buttons feel about the same to me as Happ originals, but controller feel is a very subjective matter. Basically, I doubt most people would have any complaints, and these controls definitely would be at home on an arcade cabinet.
The features that make the X-Arcade line stand out are it's programmability and it's ability to use a variety of computer and console adapters. Everything is done via hardware, so no software drivers are ever needed, and that's a good thing.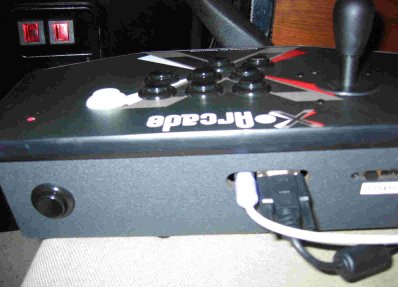 Programming is a fairly simple matter of selecting a slot with the switch on the back, holding down the program button, pressing the desired keyboard key, and depressing the program button. There's also a red LED on the unit's top to help with programming. The X-Arcade Solo also apears to have a much improved encoder than the one used inthe early X-Arcade models. For one thing, I had no trouble programming the normal keyboard arrow keys to the Solo's joystick, something that wasn't originally possible on the old full size X-Arcade I own. Another issue that seems much improved is the handling of multiple button inputs for some games. As an illustration using the latest MAME version, in "Samurai Shodown" I was able to knock out A+B slashes around 70 percent of the time. Not perfect, but then again, I don't recall the actual.arcade machines being perfectly responsive either. In "Final Fight" A+B attacks came out approximately 80+ percent of the time - pretty solid once again. Diagonals were accurate, and every game I tried played great. Emulation fans in need of a single payer controller will definitely love the Solo.
The range of console and computer adapters are the feature that truly make the X-Arcade line something special in my opinion. Aside from the standard PC keyboard port adapter, console adapters are available for Playstation 1/2, Dreamcast, XBox and GameCube. Adapters are also available for Mac computers, so our Apple oriented friends don't get left out. These adapters work very well in my experience, having tried the XBox version. They each have layouts appropriate for the targeted console, and have the ability to switch the joystick between digital and analog modes. Of course, the Solo is best suited for arcade style games that use the digital pad, like Dead Or Alive 3 for example, where the controls are precise and give the games that real arcade feeling. There is no force feedback in the X-Arcade line, but then again, your average arcade game doesn't rumble and shake either.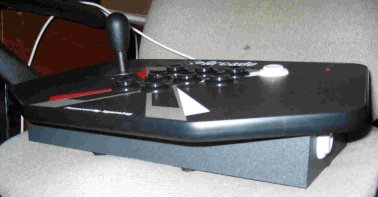 In conclusion, the X-Arcade Solo is a great looking, good feeling single player arcade panel. It's solidly constructed, has a great list of versatile features, and offers superb compatability options with a variety of computer and console game systems. Unlike the larger 2 player X-Arcade, the Solo is easier to move around and use on your lap, plus you don't need to worry about moving over to make room for a second player. In fact, some people might opt to buy two Solos instead of the standard 2 player model for that reason - it's far more comfortable for each player to have their own controller, even if it's not exactly like the arcade. I'm told by XGaming that two Solos can be hooked up to the PC at once, although I'm not sure how this would work? My guess is the second unit plugs right into the PS2 port on the first unit, allowing both Solos to be attached to one PS2 keyboard port. Just a guess though - be sure to doublecheck with XGaming if you wish to use two Solo's on one PC.
*UPDATE AGAIN* - Shawn from XGaming clarified the pricing for me... The X-Arcade Solo is debuting for $99, including a PC keyboard adapter PLUS one console adapter. There was some confusion since pricing wasn't quite clear on the X-Arcade website, but here's how to get the PC and console adapter deal for $99 - choose the Solo with a console adapter ONLY, and the PC adapter is automatically included in the package. So you get the Solo, the PC adapter, and one console adapter of your choice for $99. As for quality and features, I was surprised and impressed how well XGaming addressed past issues with their products. The improved keyboard encoder and programming was great, and I've not had any problems after spending a week with the Solo. Really good stuff - nice work XGaming!
X-Arcade homepage